Visit original article.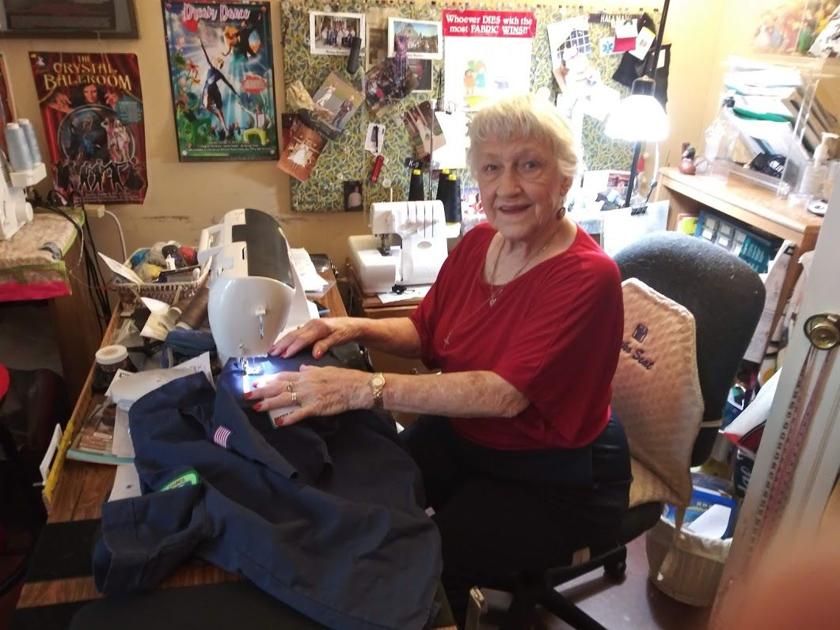 If you're looking for Brooke Hallman on Wednesdays — don't bother. "I take one day 'off' every week," says the 84-year-old grandmother. "And on Wednesdays, I don't answer the door."
Just what does she do with herself the other six days of the week? I'm 'sew' glad you asked.
Since January of this year, she has altered 65 prom dresses. She has six more to finish. Most of the business for Hallman comes from Bishop England and Wando High juniors and seniors. How does she handle a panicky mother? "I have my cut-off dates. I don't allow myself to get overwhelmed," she told me from her sewing shop in her Mount Pleasant home.
Hallman's mother was a seamstress in Jacksonville, N.C., and was forced to support the family after Hallman's father committed suicide when Brooke was 10 years old. "Mama saved enough to put me through nursing school."
Brooke was a labor and delivery nurse for a few years but gravitated to emergency medicine, eventually becoming a paramedic instructor.
Hemlines and deadlines
The Hallman name might ring a bell. Brooke was married to former Mount Pleasant Mayor Harry Hallman for 50 years when he died in 2011. As she attempted to stitch her life together without Harry, she continued to grow her burgeoning business. She calls her shop "Sew What?"
Though those prom dresses keep her machine whirring this time of year, she also takes on the challenge of dance costumes that glitter as well as various satin, polyester and bulky materials that prove problematic.
She has one daughter who has her own sewing and design business, and another daughter who is a nurse and who can sew in an emergency.
She prides herself in never being late with completing a job. Even if a customer tells her there's no rush, Brooke sets her own date for finishing so that nothing is left to chance.
She has five different sewing machines that tackle various job requirements. One might be best-suited for working with leather, another handles a cover stitch while another might attach rhinestones to a gown.
She recently converted a mother's wedding dress into a baby's first communion dress.
Threading the needle
Not everyone Brooke's age is fortunate enough to be able to work with their hands for such long hours. Her fingers are still nimble and her mind as sharp as the point of a needle. After cataract surgery, she does not wear glasses.
When it's time to collect the money for the work that's been done, she jumps on the computer and sends out invoices via email. "I take cash or check, but no credit or debit cards," Brooke, the business operator, declares.
She does have time for one hobby that fuels her work ethic. "My sewing finances my dancing." Brooke loves ballroom dancing and will soon travel to Chicago with about 12 others to enjoy a few days of Rumba and Cha Cha.
Don't you know her gown will sparkle.
It's energizing to see someone who has seen so much of life to still be enjoying life. When she told me recently that she felt "so blessed," I said wait a second — how do you spell that, s-e-w?