Visit original article.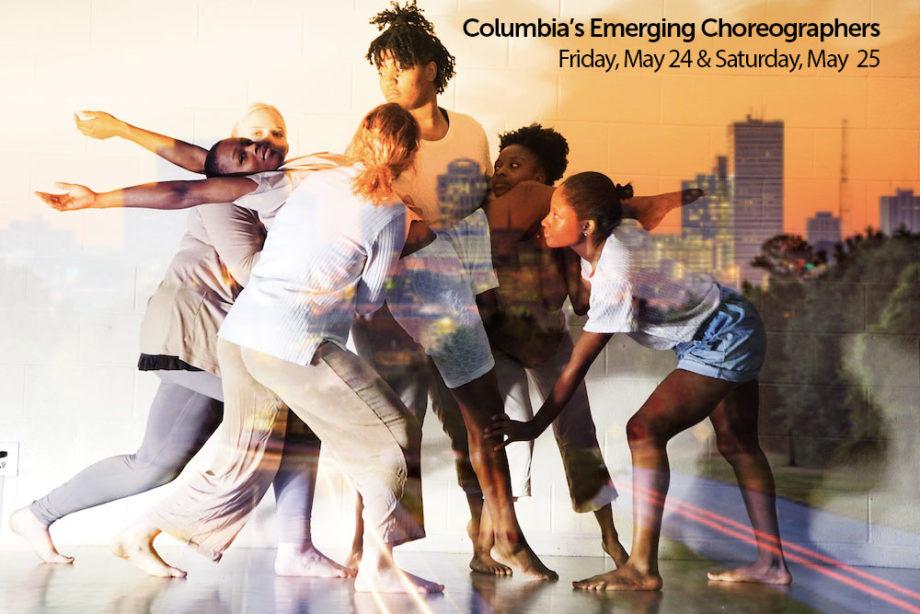 This weekend, Tapp's Arts Center will host the second annual Columbia's Emerging Choreographers showcase. Presented by the local dance company Yuhas & Dancers, the event aims to do exactly what its name indicates — present works from a diverse array of up-and-coming choreographers. This year's lineup also features a work by Meredith Yuhas, artistic director of Yuhas & Dancers and the lead organizer for the showcase.
Free Times caught up with this year's choreographers to learn more about their respective works.
CJ Anderson: The work I will present is collaborative and is called Quasar, The piece, as the name implies, has a cool space vibe. The music for the piece is called "Ascension" by D.F.G., a really awesome musician based out of Dallas. While creating the work, I choreographed and performed while interdisciplinary artist Tara Baker staged, filmed and edited the dance film. My work doesn't specifically have a meaning or story, but it was drawn from movement concepts and evolved into something conceptual. The imagery that I was initially working with was based on images and texts about Lilith; a figure in Jewish mythology believed to be Adam's first wife later turned demon. That was my launch point, and after a few rehearsals, Tara began to come with me and do test shoots. In our earlier shoots, we were playing with different types of lighting, different costuming, and even some rather different imagery than what would make up our final project. Towards the end of the process of acquiring footage, Tara would tell me what more we needed. I am hopeful that the audience will be excited by the unique filming and editing techniques used in this project, and that they will see aerial dance in a new way.
Brailey Johnson: The name of my piece is Where We Meet, with music by Biosphere. The piece features six dancers: Shaundra Moreland, Lauren Bobo, Zarriyah Johnson, Rachel LeBoeuf, Sarah Nichols and Neffy Stevenson. My work tries to analyze group mentality versus a more singular mentality. For example, how does being in a group shape your sense of awareness? How does being alone make you feel? In today's current climate, it's hard to really know if you think what you think because you really believe it, or if it's because you were told to think that way. I wanted to explore this idea because it's something I've really thought about since the last election. Why do people make the choices that they make? Would people think the same if they were taken outside of a group? I don't have the answers, but I'm eager to explore, and I hope my work makes the audience consider their own moral compass. I hope it encourages people to analyze the decisions they make, and I hope they find power in sticking to their own opinions.
Tiffany Josey: My work is Dancing in the Mirror, with music by Cyndi Lauper, Cherrelle and Tracy Chapman. I will also be dancing in my piece, using my own reflection in the mirror to inspire my movement. The creative process for this piece was organic. I always visualize my creative work before taking action into choreography. I use personality, feeling of the song, character, poise, props and attitude to bring out my creativity. I chose to use a mirror and my reflection because the mirror is where dance first started out for me. I've been dancing since I was around 5 and I trained myself dancing in the mirror watching and emulating amazing performers. The mirror is where dance first started out for me and where I found who I truly am and can become — a little girl with a big dream of becoming a performer in entertainment. I hope the audience will take the fact that I'm enjoying myself and having fun and not putting too much pressure on myself. I also hope the audience will become more confident and be inspired by my creativity as a person and that it will help them accomplish their purpose and destiny in life.
Destiny Smith: My piece is called Unmerciful. The music is called "On the Nature of Daylight" by Max Richter. I will be performing by myself, solo. For me, the creative process for this work was really hard internally. I had to deny myself, the parts of myself, that made me feel OK with being strong all of the time. Basically just accepting my emotions where they were currently. I would play the music for the piece and improv until I found the core of my emotions. For example, I would try to do a move I had yet mastered and face my doubts, insecurities and fear of not reaching my goal. This gave my movement depth and relatability to others. The intent behind my work is to show that all artists have vulnerabilities, but being vulnerable should not be feared as a weakness. Instead, vulnerability can be used as a tool to strengthen one's craft. I hope that the audience will self-reflect as they watch the piece while accepting their own vulnerability, and even if they don't get that far what did they take from the work that they will remember afterwards.
Meredith Yuhas: My work is an excerpt from a much longer piece called Physical Poetry and will feature dancers from my company, Yuhas & Dancers. The entire work, Physical Poetry, and the excerpt I will be presenting, are a part of a larger collaboration between my company and esteemed Charleston Poet Laureate Marcus Amaker. I am thrilled to bring this work home to Columbia. It will also be performed at the Piccolo Spoleto in Charleston, New York City and Portland in the upcoming month of June. The work represents how the body and mind can feel stuck. Stuck by what society tells us is the norm or expected. Stuck by fears or emotions. I use duct tape in the piece to really help illustrate that feeling of being locked into one way of relating towards one another. I hope that the audience will look inward and examine where they might be stuck and realize that broadening one's outlook enriches life and creates a safe space for everyone to thrive.
---
What: Columbia's Emerging Choreographers Show
Where: Tapp's Arts Center, 1644 Main St.
When: May 24-May 25, 7:30 p.m.
Price: $12-$20
More: 803-988-0013