Visit original article.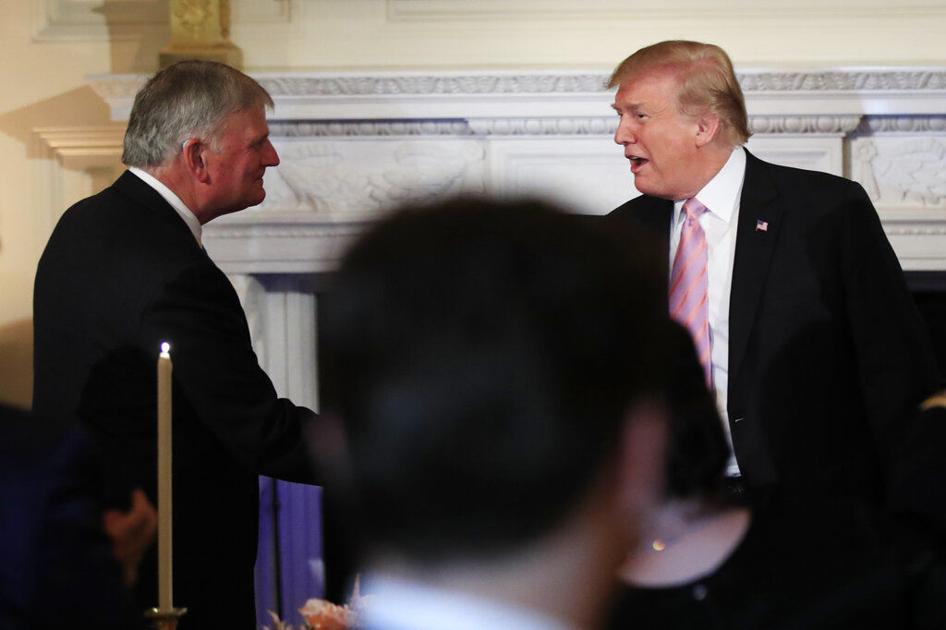 Billy Graham Evangelistic Association CEO Franklin Graham and 250 other evangelical clergy have designated Sunday as a "Special Day of Prayer" that God will "protect, strengthen, embolden and direct" Donald Trump against his "political foes."
Rev. Graham said, "President Trump's enemies continue to try everything to destroy him, his family and the presidency" and that "In the history of our country, no president has been attacked as he has." Beyond the fact that Rev. Graham has a short and selective memory – he questioned President Barack Obama's American birth and profession of Christian faith – his call to prayer is troubling.
I say that as one who in more than four decades of ministry has never called for prayer against "enemies." Instead embrace the words of Jesus: "Love your enemies and pray for those who persecute you." It's also troubling that Rev. Graham urges prayer against Mr. Trump's "political foes." Our Creator is too big to be petty or politically partisan.
I already pray that Mr. Trump grows into and respects his elected office, so that I can call him "President" Trump instead of "Mr." Trump. I pray that he practices his professed faith and embraces the Scriptures that undergird that faith. I pray that he'll heed the words of the prophet Micah, who said that we should "Do justly, love mercy and walk humbly with our God."
I pray that Mr. Trump will heed the words found in I John: "Anyone who says that they love God but hates his brother or sister is a liar. He doesn't love his brother or sister whom he has seen, so he can't love God, whom he has not seen." I pray that Mr. Trump will abandon the lies, mean-spiritedness and insecurity that cause him to lash out at his critics and to instead do what's right for all Americans, not just for those in his political "base" and those who sing his praises.
I also pray for Rev. Graham and for the evangelical clergy who issued the noted call for prayer. I pray that they'll discern the difference between partisan politics and authentic faith, and encourage Mr. Trump to be a voice for unity and morality instead of a voice for division and meanness.
I pray that Rev. Graham will be more like his father, the late and legendary Rev. Billy Graham. I served on his 1987 Columbia Crusade Committee and saw how bipartisan diversity, intentional inclusion and unconditional respect were essential elements in his planning.
I'll also continue to pray for our national well-being because the United States of America does not revolve around Donald Trump. I pray that racial, religious and gender prejudice are no longer our chief executive's tools to stir up fearful, insecure and bigoted voters. I pray that our economy will "float all boats" and does not leave the wealthy with bigger yachts and the needy with smaller rafts.
I pray that all American residents have quality medical care and that no one has to choose between buying food, filling prescriptions or paying the rent. I also pray that those in Mr. Trump's "base," who amazingly vote against their own best interests out of fear of "the other," will wake up and hold all of our elected officials accountable.
I pray that those who come to our nation's southern border for asylum will be met with welcoming arms instead of having their children ripped from their arms. I pray that those who champion the rights of the "unborn" will develop and advocate for the same level of care and concern for those who face discrimination and neglect after they're born.
I pray that all Americans, regardless of political mind-set, will embrace Our Creator's admonition to the Hebrew King David: "If my people, who are called by my name, will humble themselves and pray and seek my face and turn from their wicked ways, then I will hear from heaven, forgive their sin and heal their land."
I do so because, even in today's partisan political environment, what Abraham Lincoln said during America's Civil War is still true: "God cannot be for and against the same thing at the same time."
The Rev. Joseph A. Darby is senior pastor at Nichols Chapel AME Church in Charleston.